"Whenever you feel like criticizing any one… just remember that all the people in this world haven't had the advantages that you've had.
People try so hard to believe in leaders now, pitifully hard. But we no sooner get a popular reformer or politician or soldier or writer or philosopher — a Roosevelt, a Tolstoy, a Wood, a Shaw, a Nietzsche, than the cross-currents of criticism wash him away. My Lord, no man can stand prominence these days. It's the surest path to obscurity.
There was never a good biography of a good novelist. There couldn't be. He is too many people if he's any good."
- F. Scott Fitzgerald
http://en.wikiquote.org/wiki/F._Scott_Fitzgerald
"Knowledge is proud that he has learned so much;
Wisdom is humble that he knows no more.
God moves in a mysterious way,
His wonders to perform;
He plants his footsteps in the sea,
And rides upon the storm.
Blind unbelief is sure to err,
And scan his work in vain;
God is his own interpreter,
And he will make it plain."
- William Cowper (Born November 26, 1731)
http://en.wikiquote.org/wiki/William_Cowper
"It is not earthly rank, nor birth, nor nationality, nor religious privilege, which proves that we are members of the family of God; it is love, a love that embraces all humanity."
- Ellen G. White (Born November 26, 1827)
http://en.wikiquote.org/wiki/Wikiquote:Quote_of_the_day/November#26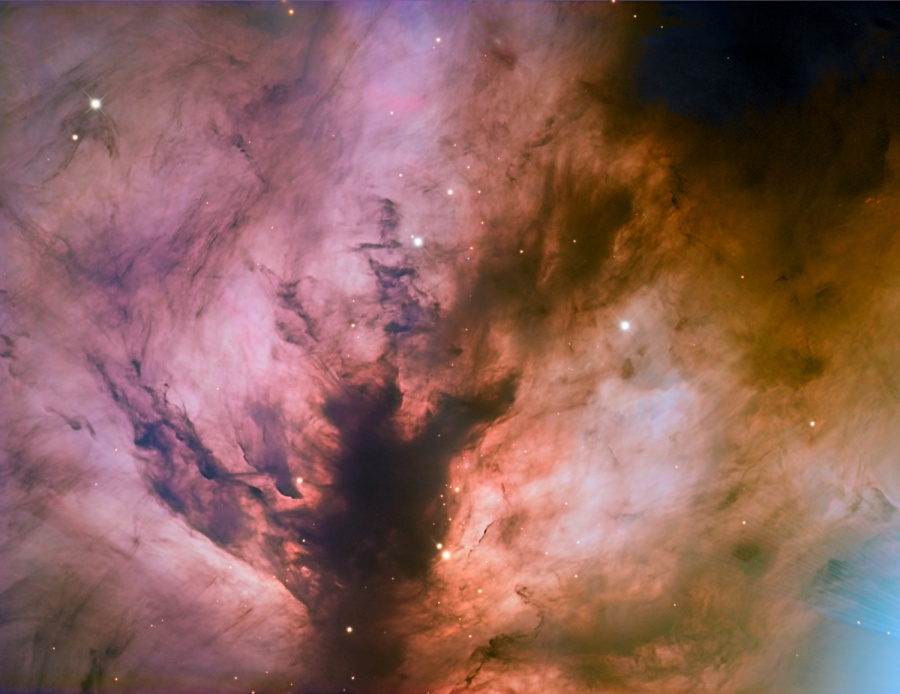 Explanation:
Of course, the Flame Nebula is not on fire.
Also known as
of
hydrogen
atoms at the edge of the giant Orion
molecular cloud complex some 1,500 light-years away.
The hydrogen atoms have been
hydrogen
atoms?
In this
close-up view,
the central dark lane of absorbing interstellar dust stands out
in silhouette against the
hydrogen glow
and actually hides
the true source of the Flame Nebula's energy from optical
telescopes.
Behind the dark lane lies a cluster of hot, young stars, seen
at infrared
wavelengths through the obscuring dust.
A young, massive star in that cluster is
the likely source
of energetic ultraviolet radiation that ionizes the
hydrogen gas in the Flame Nebula.